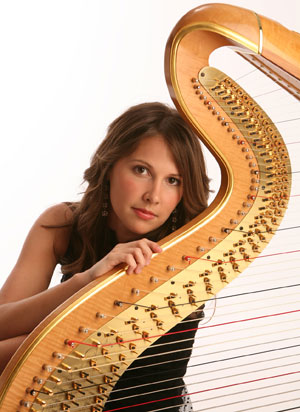 Biography
Stephanie Newberry Hall received a Master of Music Degree in Harp Performance in 2006 from the University of Houston Moores School of Music, where she studied with Houston Symphony principal harpist, Paula Page. She received her Bachelor of Music Degree in Musical Arts from Vanderbilt University in 2004, where she studied with Marian Shaffer, principal harpist of the Memphis Symphony Orchestra. Additionally, she is an alumnus of the Salzedo School in Camden, Maine where she studied with Alice Chalifoux, retired principal harpist of the Cleveland Orchestra. Stephanie has performed in Masterclasses with harpists such as Yolanda Kondonassis, Isabelle Moretti, and Sunita Stanislow, and participated in the Texas Music Festival, Rome Festival, and Sewanee Summer Music Festivals.
Having recently relocated to Indianapolis, Stephanie actively performs as a freelance harpist, and is fluent in classical, sacred, and popular music styles, performing in solo, chamber and orchestral settings. A native Texan, Stephanie began studying at the age of 10 with Patricia Furley, a former student of legendary harpist and composer Carlos Salzedo and principal harpist of the Corpus Christi Symphony Orchestra. Stephanie has been performing professionally in Central and South Texas since 2004 and acted as principal harpist of the Corpus Christi Symphony Orchestra for the 2006-2007 season. She has also performed as a guest principal harpist with the Corpus Christi Ballet Orchestra and Victoria Symphony in Texas, the Sewanee Symphony in Tennessee, and the Paducah Symphony in Kentucky.
As a concerto soloist, Stephanie has performed Mozart's Concerto for Flute and Harp with the Corpus Christi Youth Symphony and the Texas A&M University Orchestra in Corpus Christi, Texas. Her most memorable performance was when she had the privilege of performing as Principal Harpist in the Sewanee Summer Music Festival's performance of Harold in Italy with soloist Charles Pickler, principal violist of the Chicago Symphony Orchestra.
Stephanie teaches harp to students of all ages and abilities, on both pedal and lever harp. From 2001-2004, Stephanie taught private harp lessons and harp ensemble for elementary through adult students at Allegro School of Music in Nashville, Tennessee. From 2004-2005, she was the private harp instructor for 6th-8th grade students at Garcia Middle School in Houston, Texas, including coaching for solo and ensemble competition and orchestral studies, as wells as arranging harp parts for orchestral repertoire. Since 2005, she has taught both pedal and lever harp in her own private studio. Passionate about education, Stephanie is also a licensed K-6 teacher.
Stephanie performs on a Lyon and Healy Salzedo model concert grand pedal harp and a gold Lyon and Healy Style 17 semi-grand pedal harp.